You may wonder why a Mustang made it's way into SZ.  It was my first performance car I purchased when I got my first job in high school.  It's what got me into cars.  I started modifying it in my teenage years and it gave me a very rudimentary introduction to the world of automotive workings.  I added a Vortech Supercharger Kit shortly after buying the car.  Back then the kits would only supply you with larger injectors and a piggyback Super Chips PCM module.  At that time California had 92 octane so it survived for over 20,000 miles.  After that California went to 91 octane with MTBE and the 4.6 2V engine in the Mustang lost its engine, add to the fact that its factory fuel pump and piggyback PCM were also recipes for disaster.  It developed rod knock and low compression in a couple cylinders.  The car sat for over 7 years until this year when we breathed life back into the pony.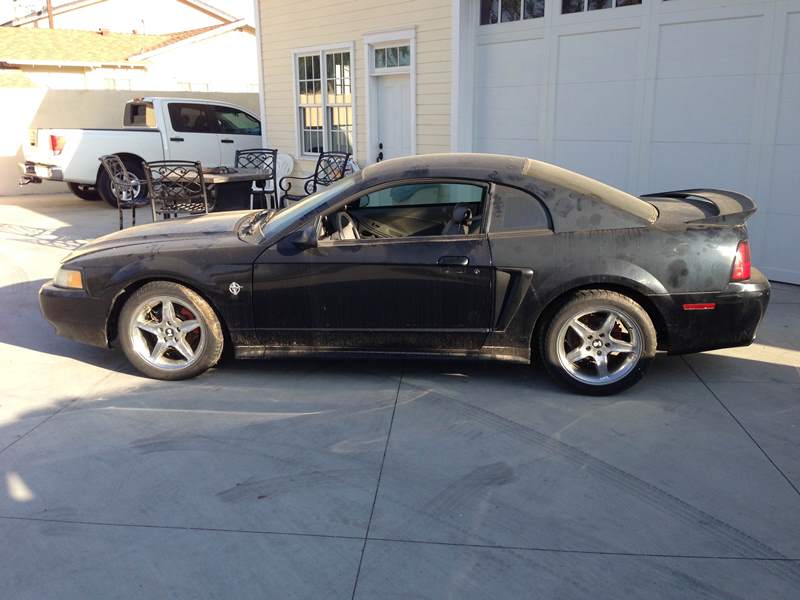 It sat for so long we had to dig it out of the dirt it was sitting in.  Rats and other animals called the engine bay home.
The old engine ready to come out.  Blower was taken out prior to pulling the engine.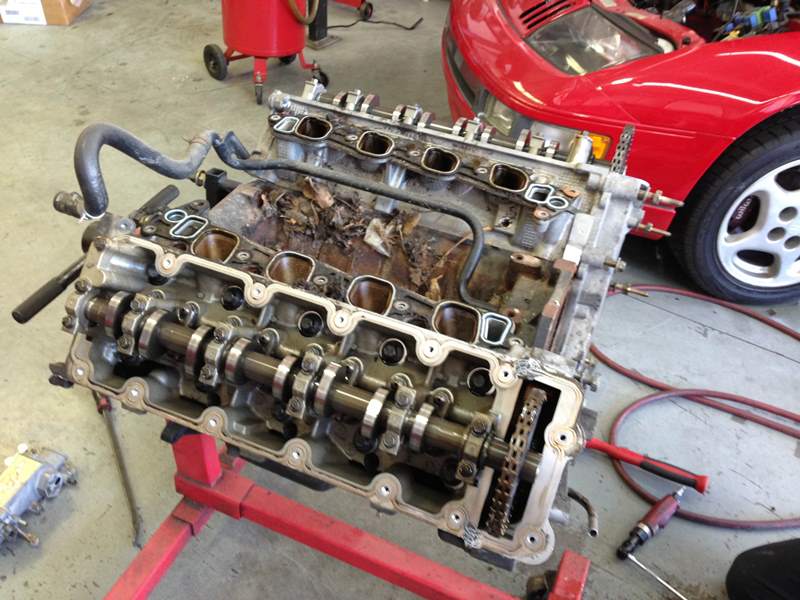 In the valley of the engine is where home was for all the critters.  Some of the wires on the harness were chewed up thanks to our friends.  The old engine was torn down for scrap metal.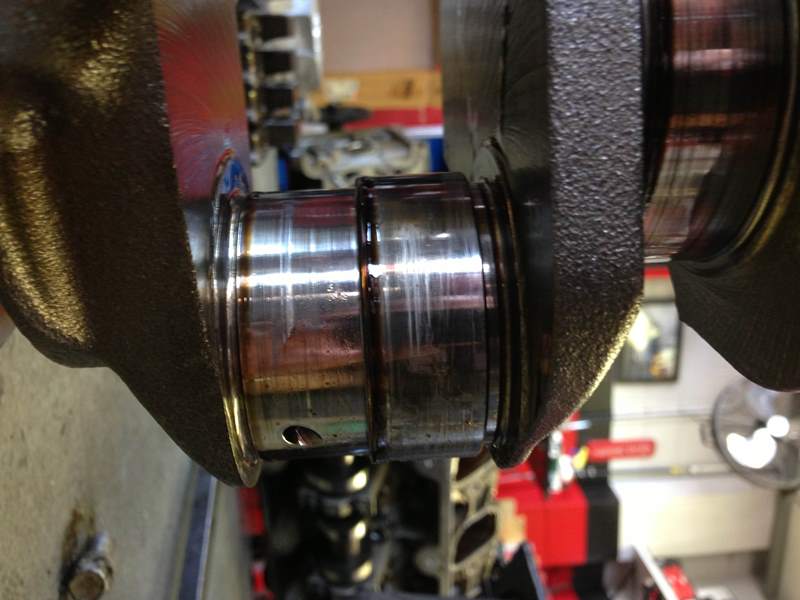 Crankshaft chewed up.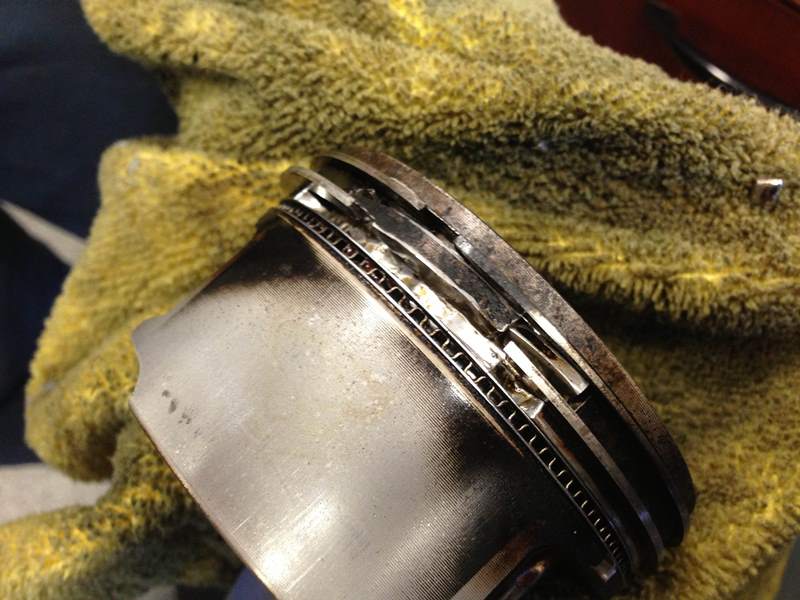 The main culprit of the low compression.  Rings\ring lands destroyed.
Our engine replacement came in the form of a brand new MMR longblock.  The new block is aluminum vs cast iron to save a tremendous amount of weight.  Updated PI heads were added along with larger valves and Comp Stage 1 Cams.  Diamond Pistons and rods, along with a forged Cobra crankshaft were added.  Wrinkle blue powdercoated Trick Flow Valves and Trick Flow Intake Manifold was installed.  C&L throttle body was added as well.  We went with Siemens 60 lb\hr injectors and 90mm Lightning MAF.  BBK shorty headers bolted to the heads which then lead to a Bassani X-Pipe with high flow cats and finally to a Bassani catback.
We added two Nissan knock sensors to monitor for knock.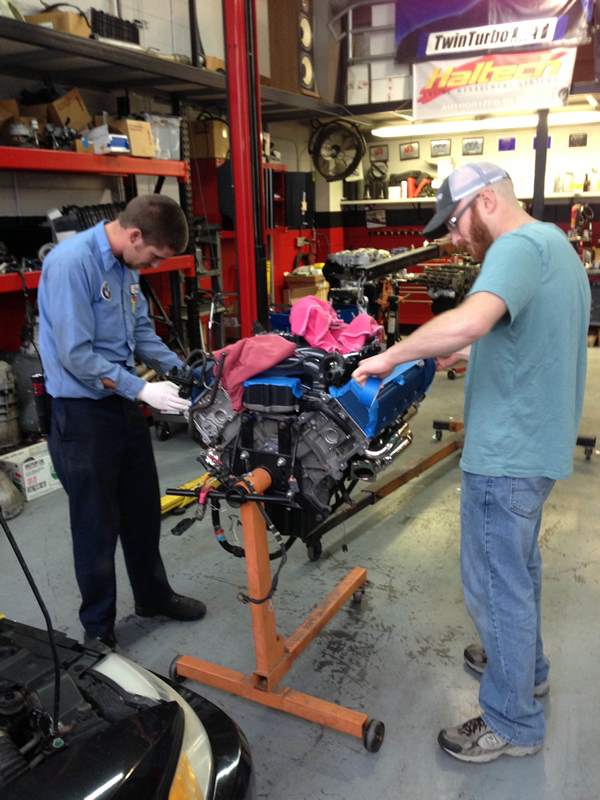 LJ & Jonathan carefully tape up the valve covers prior to dropping the motor.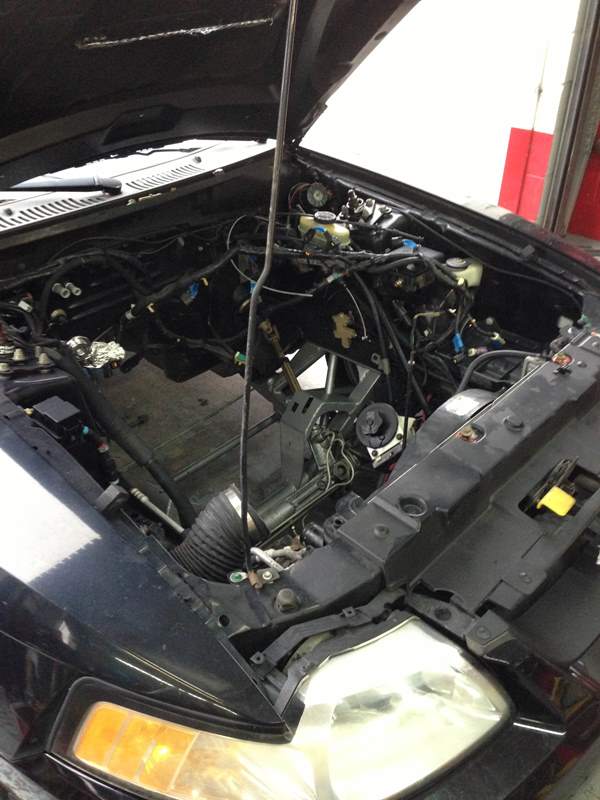 While we had the motor out we upgraded to a tubular K-member and front coilover conversion.  This saved us over 80 lbs of weight.  The K came with all the parts for the swap and included tubular a-arms.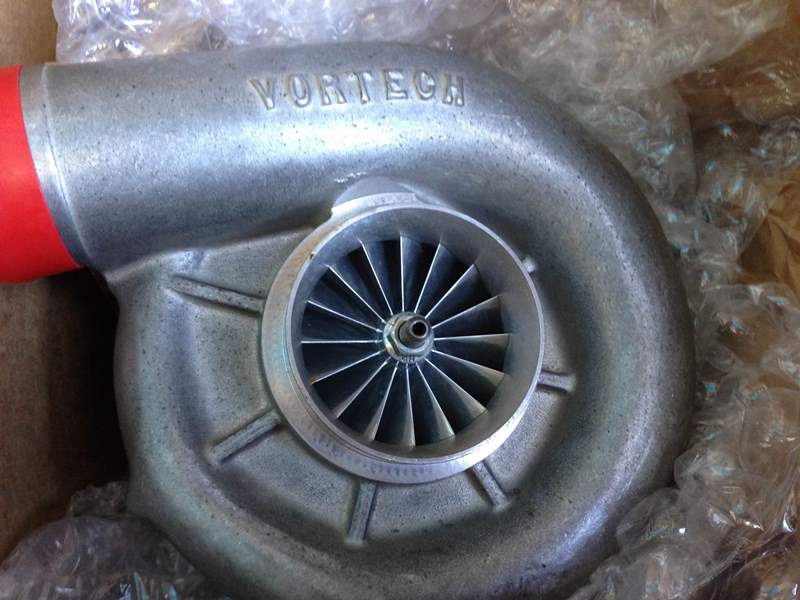 While things were moving along on the engine, we sent the V1 head unit to 928 Motorsports for a rebuild and upgraded to their billet wheel that looks very similar to Garrett's GTX wheels.  We left the base pulley size as we were not planning on running an intercooler.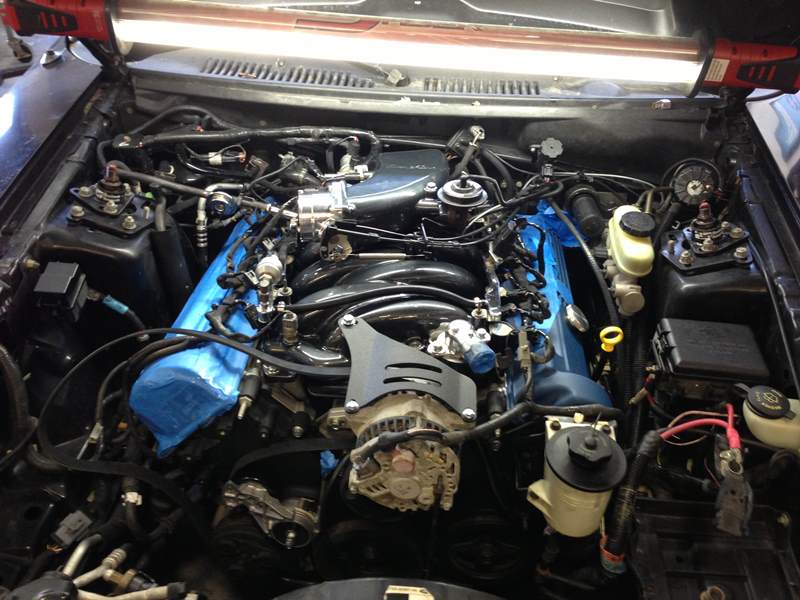 With the new intake manifold we had to move the alternator out and away from the engine.  We also wired in our Meizre electric water pump at this stage.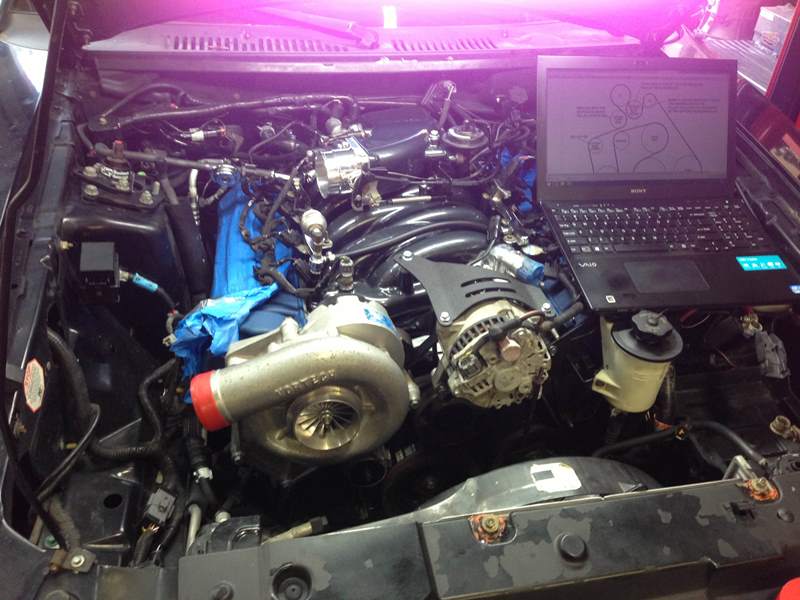 We were set back a few days.  Turns out that the 1999 timing cover is different than the new engine's 2000+ timing cover.  This forced us to buy a new bracket from Vortech.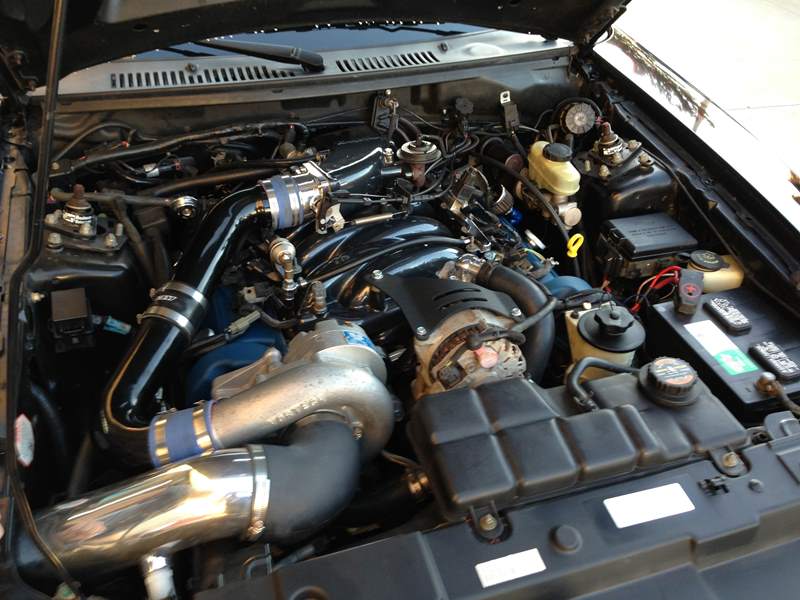 Finished product.  An Anderson Powerpipe replaces the old generic accordion hose for better breathing.
We were impressed with the results!  It isn't a Z but it's still fun to drive.  441 whp on 91 octane.  For a V8 the torque is lacking but that's what you get with a centrifugal blower and turbo compression pistons.  We used the SCT tuning software to tune it.  SVT Focus pump and Kenne Bell Boost a Pump send fuel to the Siemens injectors.  We've increased the rev limiter to 7250 so we hope to break into the 460 whp.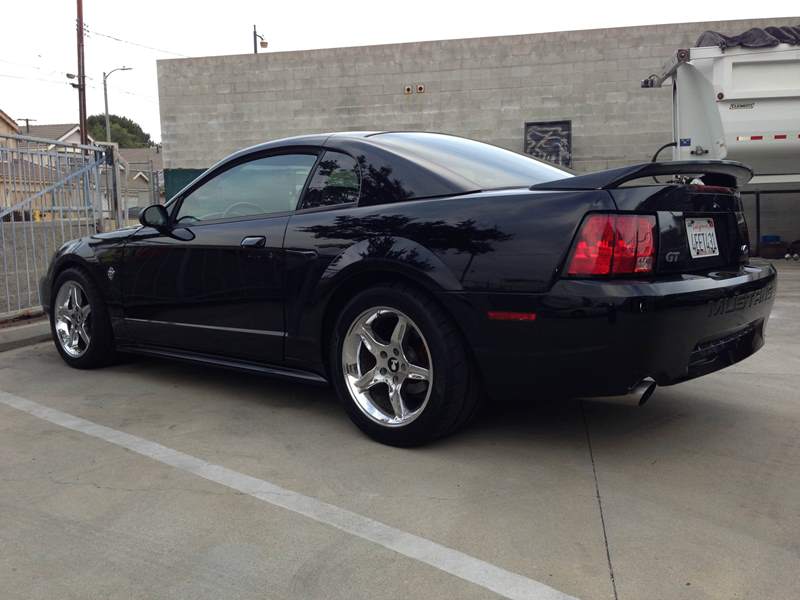 Not so bad looking after a great detail from Jerry @ MVP.  I want to thank Matt @ Performance Evolution, LJ, Jonathan, Rob @ Z Car Garage, Tony @ Fast Intentions, and Jack @ Muscle Motors for the help, parts, and suggestions.  Last and not least, my wife Sonia who was pregnant throughout this project and we had it running 2 weeks before our daughter was born.