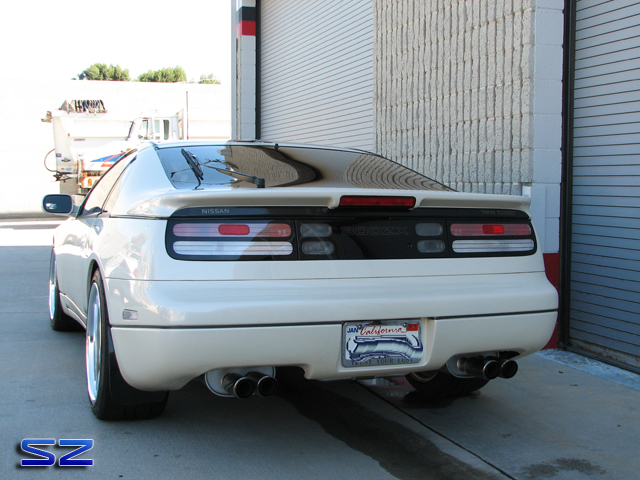 When Dean M. brought us his baby for tuning and some clutch job, he thought he was "done" modding his Z.  Anytime we @ SZ see any room for improvement we'll let you know.  Dean is rocking some Sport 500s, purple top 555 Nismos, SZ 2.5″ DPs & TPs, HKS "old skool" dual tip catback, stock exhaust manifolds, JWT Dual POP, and Greddy Profec-B EBC.  We let Dean know that there were significant improvements in the Z32 mod world and that before he planned upgrading turbos he can easily perform other supporting mods to give him better response and possibly the same or more power than a turbo upgrade would provide.
This story does not end here as we tuned Dean's Z as is w\o adding any new funky fresh mods.  After discussing his long term goals we agreed that in the next few months we would add our SZ 3″ DPs and 3″ to 2.5″ TPs.  I'm working on the catback change.  Hopefully Dean will agree!  If so we'd go full SZ 3″ TPs and SZ Catback.  Next in line would be Z1 TBs, Ash I\C & Inlet Piping, along with some Ash Massive I\Cs, topping it all off with some Nismo 740cc injectors and 300Degree Rails.  We performed the following dyno sometime last year with his current and old skool mods.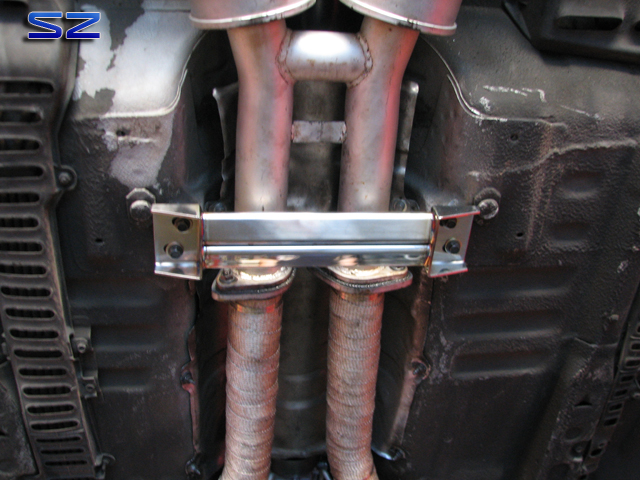 While we had Dean's Z for servicing, we added the Aruba Dave brace.  Nice piece with clean welds.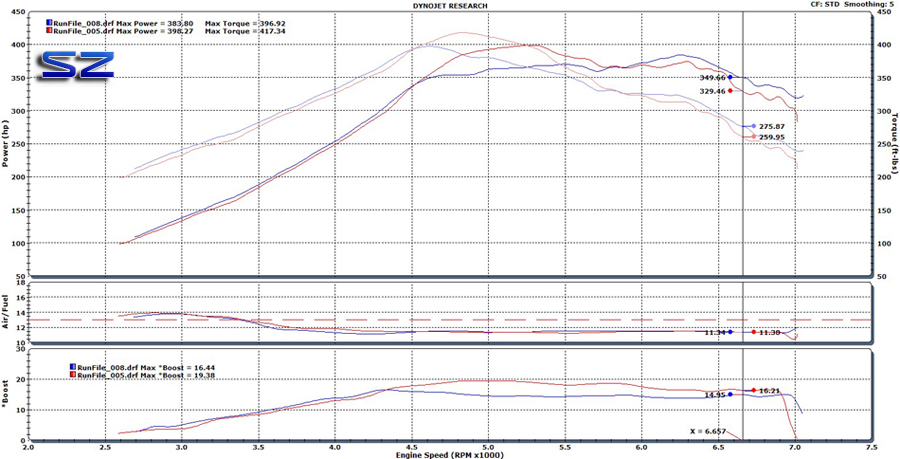 Here's Dean's Dyno graph for his "old skool" mods.  Both on 91 & 100 Octane.  Another one of those where more boost doesn't make more power.  He's got a potato in the tail pipe! 😉  Stay tuned for Dean's new skool mod results in the upcoming months.
Dean's Z is @ the shop at this very moment for some suspension work.  Turns out those Teins really do ride like shit.  Well, its relative but Dean's ready to ditch his Tein EDFC setup in favor of some new Nissan shocks and Eibach springs.
Till next time!  Keep the rubber side down.