This black Z34 NISMO came to us in need of a few things.  The owner complained of high oil temps even with his 25 row aftermarket oil cooler in city driving.  We designed and fabbed up a nice worry free solution to this.  We upgraded to a Stillen Gen 3 Intake, tuned the Z, and finally upgrade the rear end gearing to 4.08s.  Everything went smoothly and all the upgrades made nice improvements in the Z's daily activities.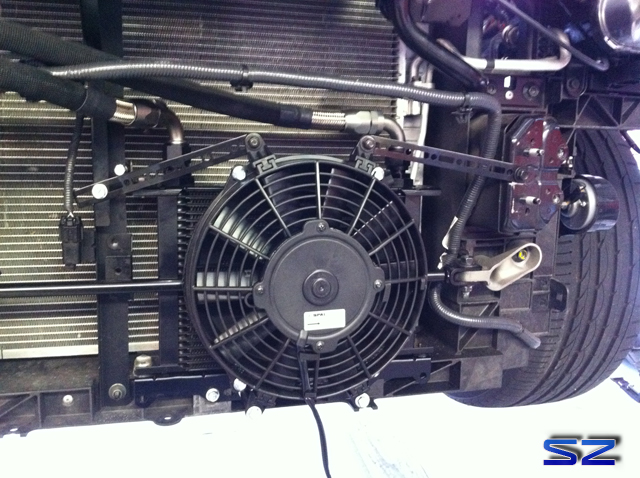 We had a few hurdles to conquer.  The first was getting by the front (NISMO only) brace.  You can see it in this picture running along side the front of the oil cooler and behind the fan.  Done with a little magic 😉  We used a very high quality SPAL pusher fan controlled by a thermostatic switch.  We opted to go with an 190 degree ON.  So as soon as the oil temps hit 190 degrees, the fan will automatically turn itself on.  We installed the temp sensor for the oil control directly into the oil pan (bung welded).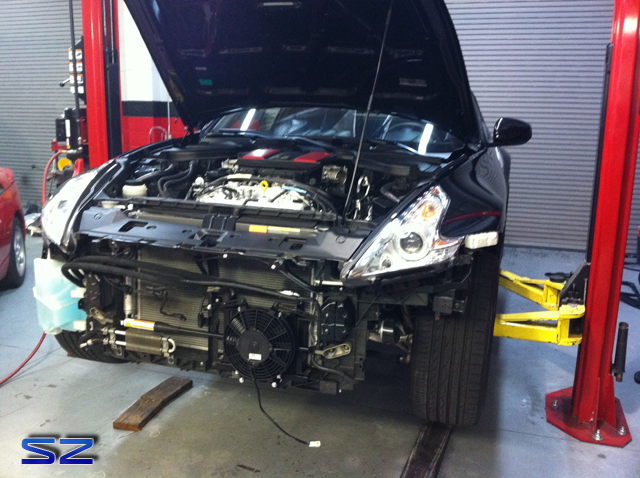 Looks almost factory.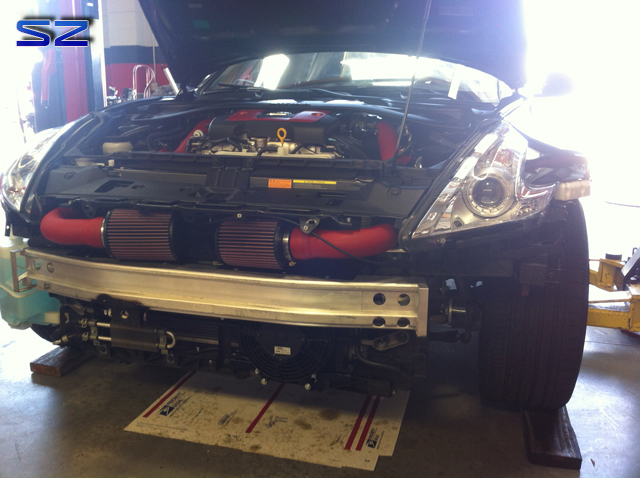 Stillen Gen 3's powdercoated wrinkle red (from Z1).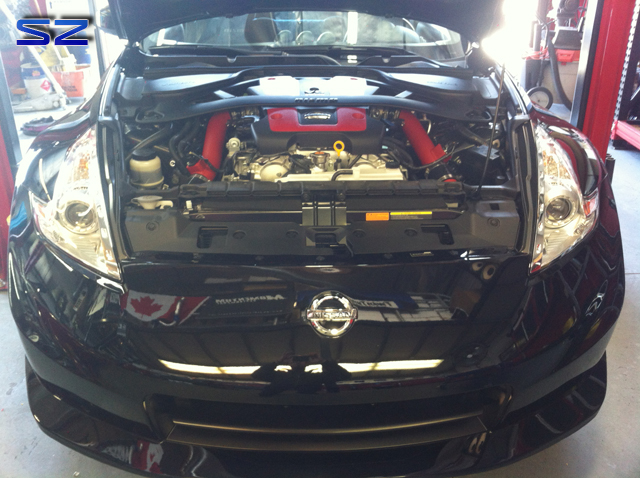 Short video of the fan running.
NISMO factory tune with only the Stillen Gen 3 for mods.  Already running extremely lean.  This would only get worse with an aftermarket exhaust.
Tuned run.
The owner of this NISMO is happy to report that with the e-fan mod the oil temps are much cooler.  Here's what he had to say:
Wow. Just wow.  The fan works great! Driving around West LA yesterday in stop and go traffic the temp got to about 200. That is vs. the 220-230 that I would normally see in that traffic in 70 degree weather. At a long stop light the the temp (as you mentioned) went down. That little fan must really move some air.
The new final drive gearing also helped give more kick in the pants feel, accelerating the Z quicker.