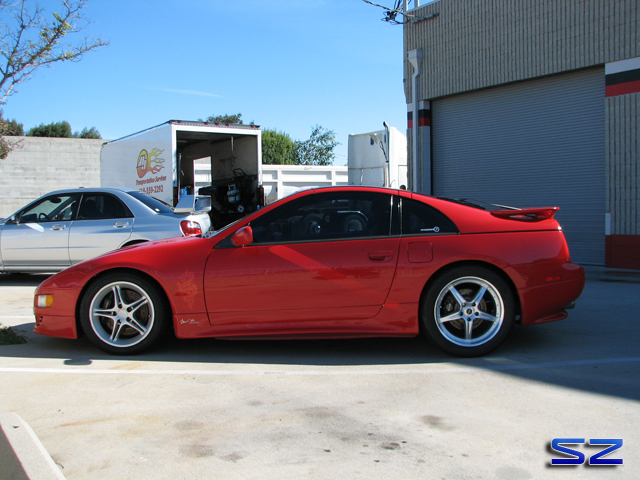 See the red dragon in the picture?
You know when you get bit by an automotive bug you want more of it.  For Mike it came in the form of this 1995 300ZX TT.  It wasn't long before he took it out to his local drag strip and craved more power.  He brought us his Z with "stage 3″ modifications.  Roughly making around 315 whp.  Over the course of a year we made improvements upon his platform.  We began by adding our SZ 3″ 4-Bolt Downpipes, and SZ 3″ to 2.5″ Test Pipes to mate up to his existing Stillen Catback.  For his drag racing rituals we installed our lightweight flywheel and High 5 clutch.  Moving on to the inlet tract we installed the Selin Dual POP kit, Ash Massives, 2.5" I\C piping, Z1 throttle bodies, and at the same time the plenum was off we upgraded his injectors with Nismo 740s.  A set of new old stock Leader Gears was also installed for added off the line giddy up.  The only thing holding him back now are the restrictive stock exhaust manifolds.  Upgrading his catback would also benefit him as well.  Knowing Mike though, if we do manifolds it will be time for bigger badder turbos.
Ash Massives mounted and ready for boost.
100 Octane Tune for which he runs at the drag strip.