This JDM rockin' Z33 is a pantie dropper for sure.  Sporting Seibon C.F. fenders, Volk TE37s Seibon Edition Wheels, and other assorted C.F. ware.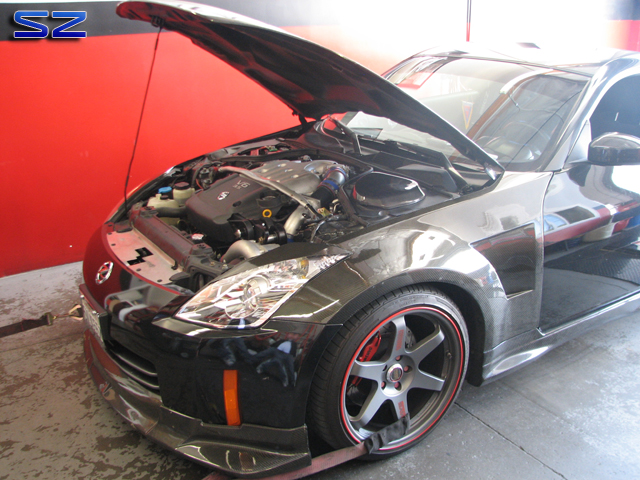 Under the hood it has a gnarly whine that suggests it isn't all show.  A Vortech snail resides under there willing to boost it with the rest of the mean machines in our shop.  Along with Stillen Headers, factory CATs, and HKS Catback.  Vithorauk (the owner) called on us to tune his Z machine for optimum radness.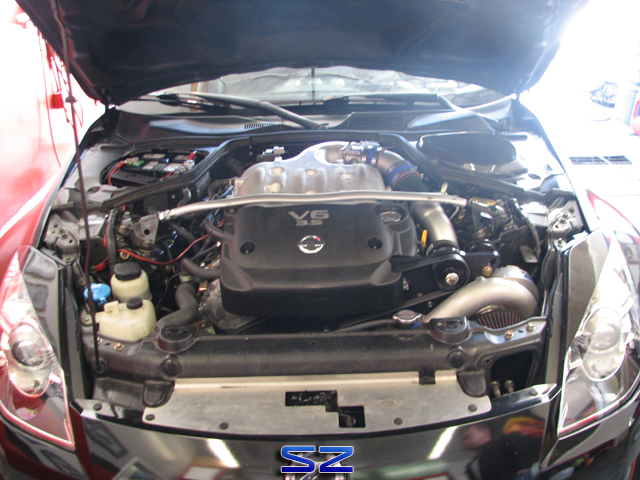 Luckily for him he laid off the gas pedal until it was tuned.  It came to us with the UniChip piggy back.  It was a no brainer to yank that thing outta there and get the party bumpin' with UpRev hawtness.    After swapping out the factory plugs with colder ones and inspecting a few other things it was time to make some boost.  The baseline run with the UniChip had to be prematurely aborted due to unwanted mean and way too lean AFR.  A damn good thing Vithorauk never laid into it.  After some much needed massaging this baby was ripping it hard.  One thing about superchargers is that they do sound f-in mean.  Especially in our dyno room.
The before & after transformation…………….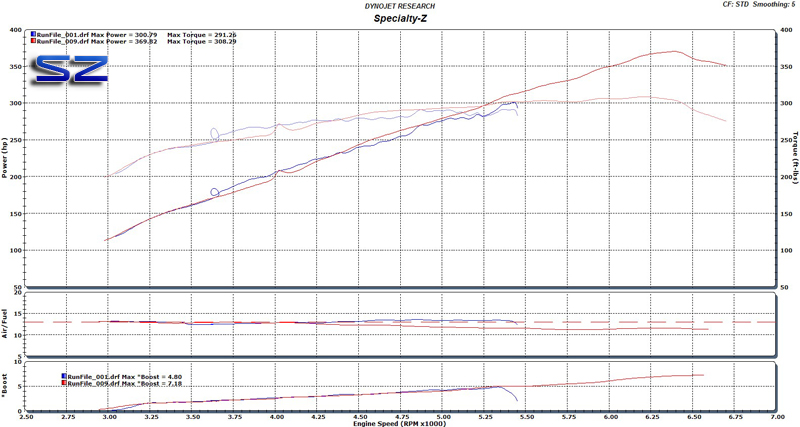 Self explanatory……the blue run is the baseline on how it came in and red is where it came out rockin' it hard.  Smooth power delivery and some sweet AFR to go with it (red run).  We made 369 whp & 308 torque with 7 psi of boost.  Props to Anthony @ Antelope Valley Nissan for a job well done in the installation department ( I didn't have to redo much).