Earlier this year we tuned several high HP Zs.  Here are a few of them.  All running on ethanol fuel (50-70%).
First up we have Anthony, running on HKS 2530s, JWT 400+ cams, head work, SZ 3″ Down Pipes & Test Pipes, ID 1000cc injectors, and 2.5″ IC Piping.  Amazing response and torque.  500 torque at just 4000 RPM.  Just made 700 whp and 683 torque!
Nest up is Dennis, his Z came equipped with GT2860RS turbos, JWT 500 cams, full ASH piping, 1000cc injectors, SZ 3″ Down Pipes and Test Pipes.  726 whp and 638 torque.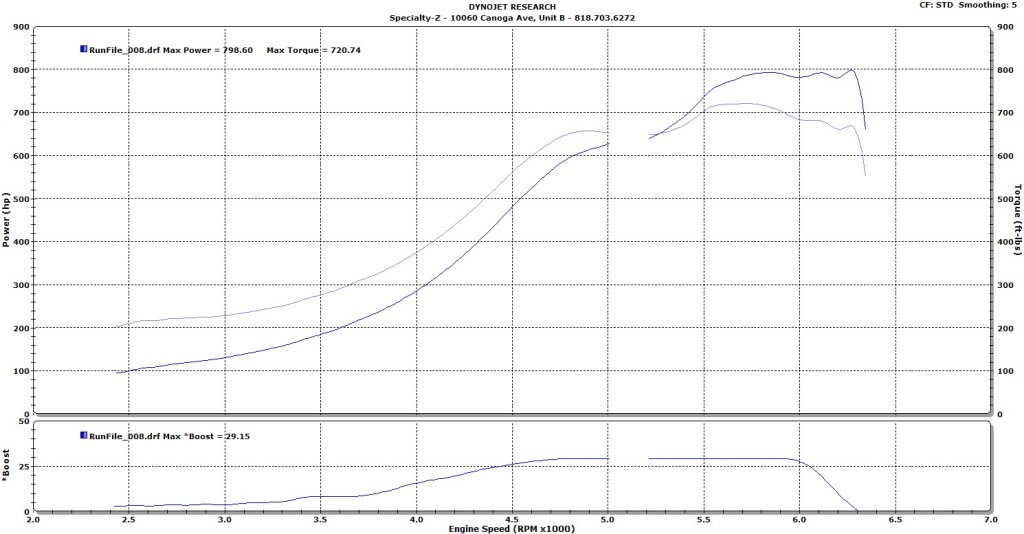 Petar came in with GTX2863 turbo muscle, JWT 500 Cams, SZ 3″ Down Pipes and test pipes.  Excuse the tach loss between 5000 and 5250 rpm.  798 whp and 720 torque.
Equipped with a Haltech ECU and flex fuel sensor, Ray is equipped with old skool TD06L2-20G Mitsu turbos, SZ Inconel Manifolds, full 3″ exhaust. JWT 500 cams.  Running on ID2000cc injectors.
830 whp and 670 torque.