Momentum came to us with their new single turbo kit out for the 350Z & G35.  We looked at the kit, its design and the components used and its hard to beat it!  High quality parts, great instructions, completeness make for a simple and stress free installation.  Along with reliability, power, and fun to the end user.  Although it looks like a similar kit that came out years ago (that's where the similarities end), Momentum stepped up the game using larger turbo inlet and outlet piping.  A larger 3″ downpipe is used for better efficiency of the system.  That's the name of the game when turbocharging, improving efficiency, not more boost to make power (to a certain degree).  Aside from just making a turbo kit, Momentum also offers headers & catback systems to compliment the turbo kit
At the heart of the kit is a Garrett GT35R fed exhaust gases by a Tial SS Cast V-Band Turbine Housing.  Use of this housing allows for a quicker spool by getting more heat (energy) to the turbine wheel versus a standard cast housing.  Excess exhaust energy is released by the use of a Tial MV-R wastegate and compressor source combated by a Tial Q BOV (MAF is blow-thru for no over-rich conditions).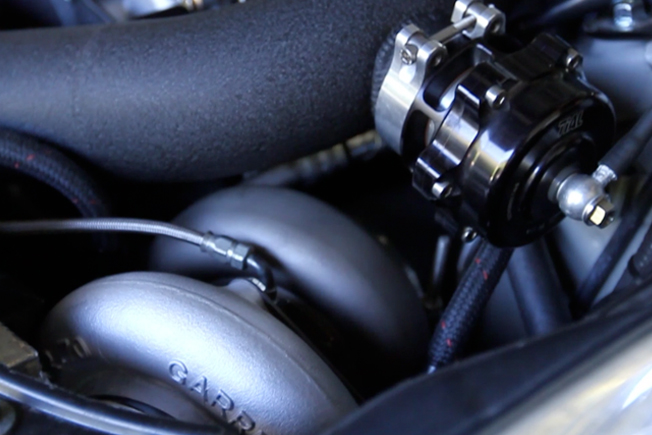 Peek a boo!  GT35R utilizing the Tial V-Band Turbine Housing,  Also pictured is the Tial BOV.
Quality is also the name of the game, beautifully welded piping and exhaust show that its not just about making power but having an overall complete package.  The kit is available as a complete package with fueling (Walbro Fuel Pump & DW 600cc Injectors) and ECU (UpRev Flash) included along with colder spark plugs (6 heat range).  The tuner kit will not include fuel or tuning for those who already have this side of things addressed.  The standard options include polished piping and exhaust or for a little more you can opt to have texture black or gray piping and even have the exhaust ceramic coated.
Texture Black Piping shown above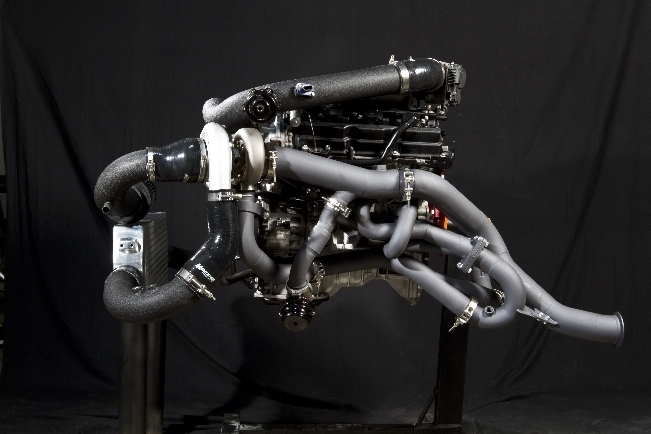 Just plain sexy.  This kit will produce up to 600whp for those with built VQDEs and a safe 400whp on stock engines.
Tuner Kit pictured above
Available now at our store and also available for in house install.  Please e-mail or call us @ 818.703.6272 for anymore information and pricing.