We had the pleasure to work on Terry's beautiful Z32 TT. He shipped it out to us from Florida for a little mechanical makeover. He brought it to us to clean up some loose ends and add a few more details to the package he had.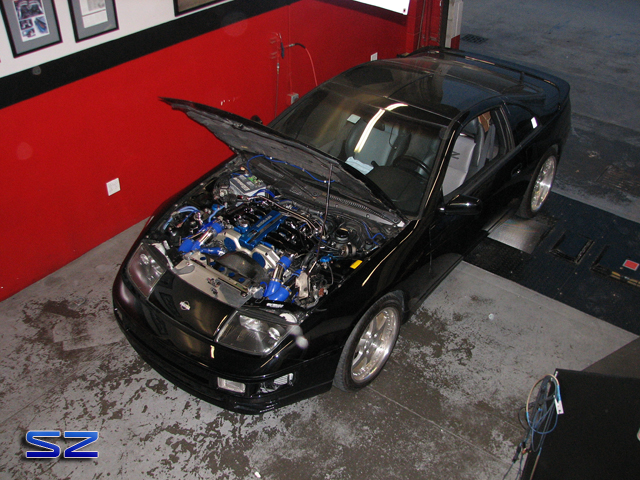 His Z32 came to us with the following mods:
Built Engine
JWT 400 Cams
JWT Sport 530 Turbos
SZ Inconel Exhaust Manifolds
Nismo 555cc Injectors
JUN Solid Intake Cam Gears
SZ 2.5″ Down Pipes & Test Pipes
B&B 2.5″ Catback
Greddy Intercoolers
Lightweight Flywheel
JWT Dual POP w\ low speed kit
We didn't do a "before" dyno pull because it wasn't running great when we got it.  We sorted out all the demons in the end though.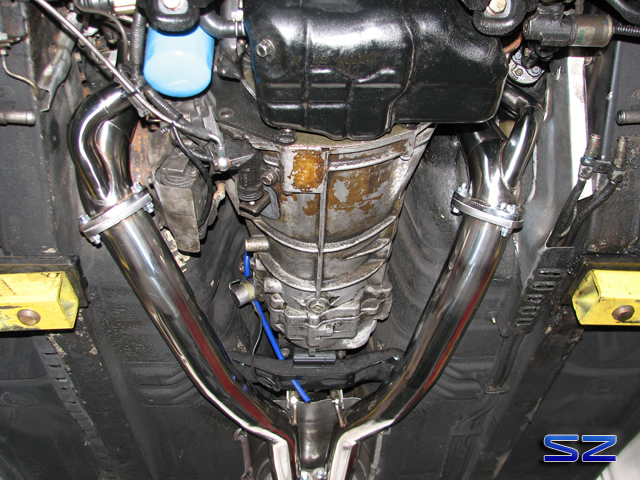 SZ 3″ Exhaust Piping
We did the following performance mods along with a plethora of other misc things not listed:
SZ 3″ Down Pipes & Test Pipes (cone to 2.5″)
SZ & 300Degree 740cc Fuel System Upgrade
Ash Massive Intercoolers
Larger CZP I\C Piping
Z1 Throttle Bodies
BDE Intake Cam Gears
Selin MAF Translator & Elbow Kit
SZ Clock Switcher w\ 3 custom tunes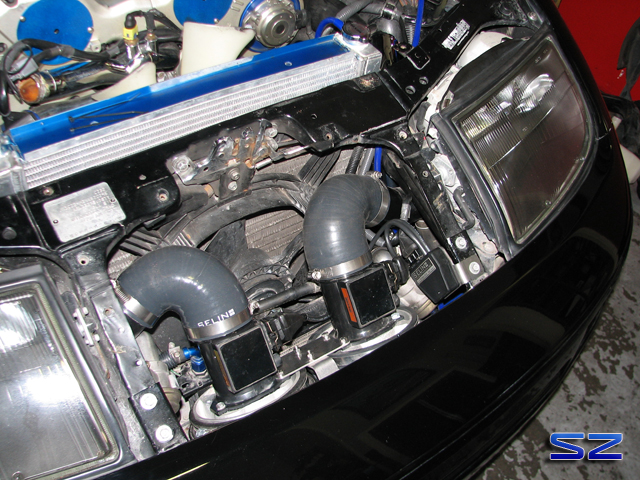 The Selin Kit is truly a great product(s) to work with.  Fitment is great and looks great.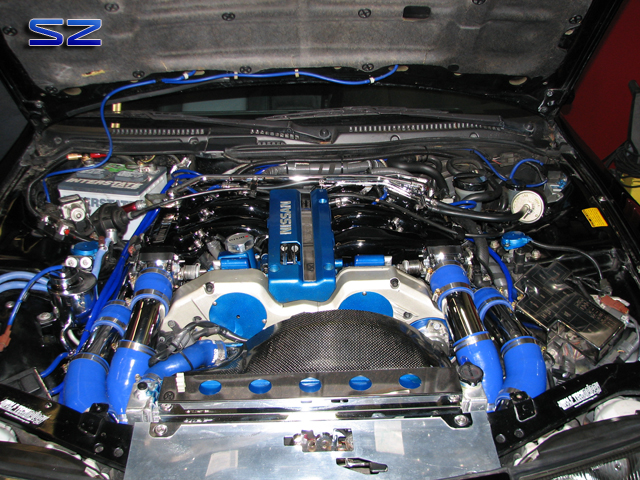 One clean engine bay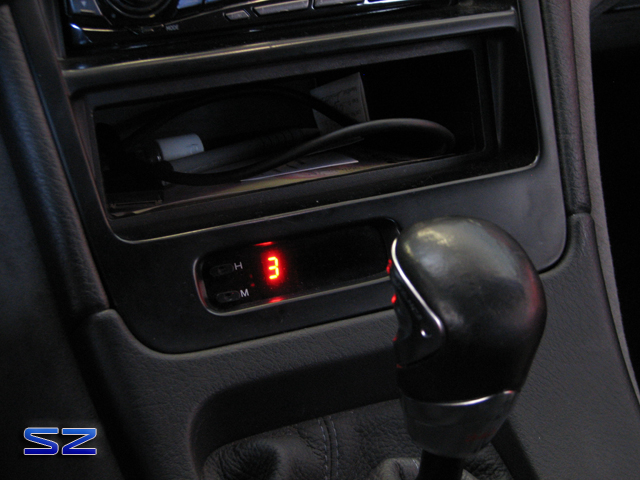 Our clock switcher to make changing programs on the fly easy
Like I mentioned in the mod list we made 3 custom tunes for his application.  We tuned for 93 octane, 100 octane, and Q16 Race Fuel.  It's been awhile since we've seen a 530 car do awesome since we discontinued our inconel manifolds.  Knowing Terry had a set on his Z, we were curious to see what it would put down on the dyno.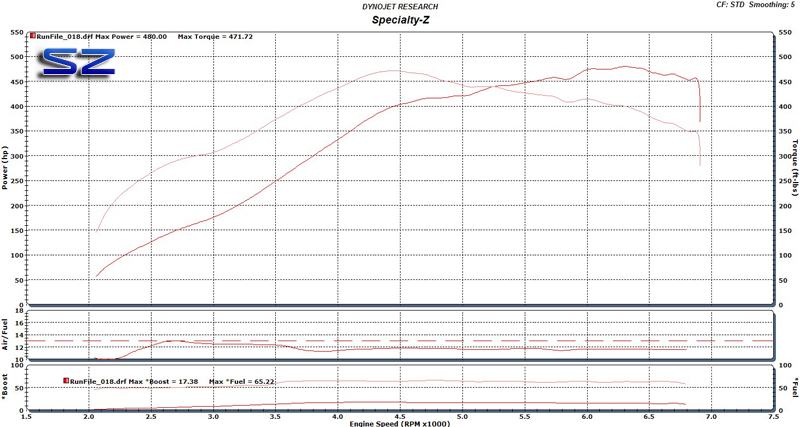 We were pleasantly surprised to see it make this much power, however with the tender loving care and mods we provided it made sense (480 whp & 471 torque).  We peaked at 17 psi at around 4200 RPMs with the boost dropping to about 15 psi in the upper end.  We tuned his Blitz EBC (electronic boost controller) for as steady boost as we could across the range.  The 2554R turbos don't maintain peak boost in the upper RPM as well as larger turbos do.  Luckily Terry doesn't have to use 91 octane in Florida.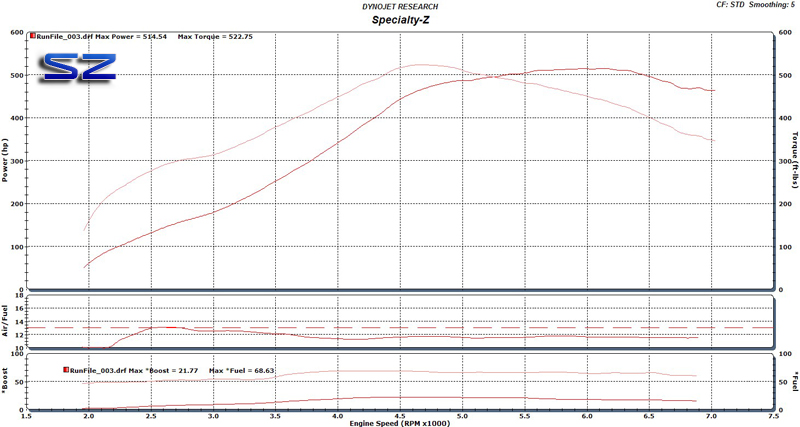 Up next was 100 octane which can be found around SoCal in many gas stations at the pump.  At least we have some way to get around shitty CA-91 gas.  After dialing in timing and fueling we ended up with 514 whp and 522 torque.  We hit peak boost at 21.7 psi at the same RPM with boost tapering to around 17 psi up top.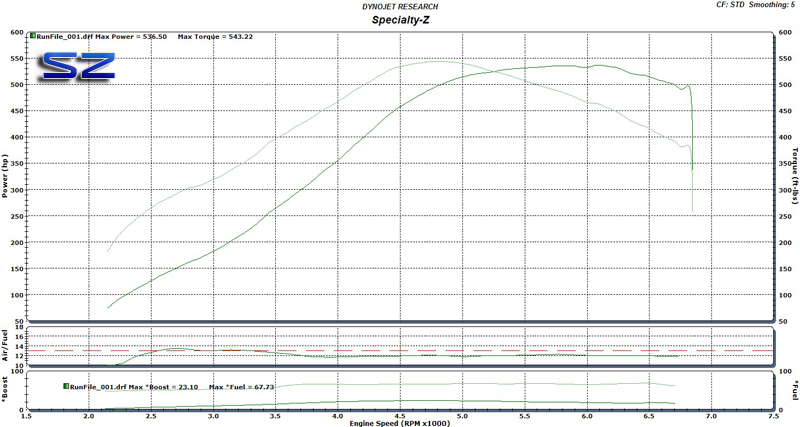 For the last tune we ran on VP Q16 and peaked at 23 psi.  This is all the turbos could muster.  No fault of the turbos or W\G actuators.  You see, more boost does not always mean more power.  A turbo is rated to run in an efficient area of boost that relates to how much air an engine can process.  The less boost one can run and achieve the same or more power the better off you are.  I know this sounds elementary, but most people have a belief that more boost equals more power.  Take Terry's VG30DETT for example.  For him to make 480 whp like he did on 93 octane he had larger exhaust, cams, inconel manifolds, larger intercoolers, piping, blah ,blah blah.  If he didn't have let's say our 3″ exhaust or larger intercoolers\piping, etc..  for him to make 480 whp it would have required him to make more boost (22-24 psi) AND run race fuel.  Why?  Because we've eliminated more restrictions in his system and  made his setup more efficient.  Hence his VG and 2554Rs don't have to work as hard to make the power.  Make sense?  More restriction can equal to more pressure or (boost) which can lead to compressor over-speed or choke.  As well as extreme back pressure and engine damage.  Learn to know the limits, and if you don't know, learn to ask someone who truly does.  Class is over.  Back to Terry…..we made 536 whp and 543 torque.  Congrats Terry and thanks for the pleasure of working on your Z!  You have one amazing 2554R powered Z32!