By far one of the highest NA Z32s we've seen.  John's Z has lots done to it.  Something we'd like to see is a change of cams after looking at his power delivery.  It has regrind cams in it now.  To remedy some of this we installed a set of adjustable exhaust cam gears which gained more power and smoother power & torque delivery.  We also added a Selin Dual POP, fixed his VTC, and tuned it.  A before and after is shown below.  A list of some power mods John has are:
Factory 120+k Miles Engine
Stillen Headers
SZ Hi-Flow Cat Pipes
SZ Single Oval Catback
Regrind Cams
Tomei Adj Exhaust Cam Gears
SZ Flywheel & Sport Street Clutch
Electric Cooling Fans
Selin Dual POP & Translator
UD Underdrive Pulley
SZ Tuning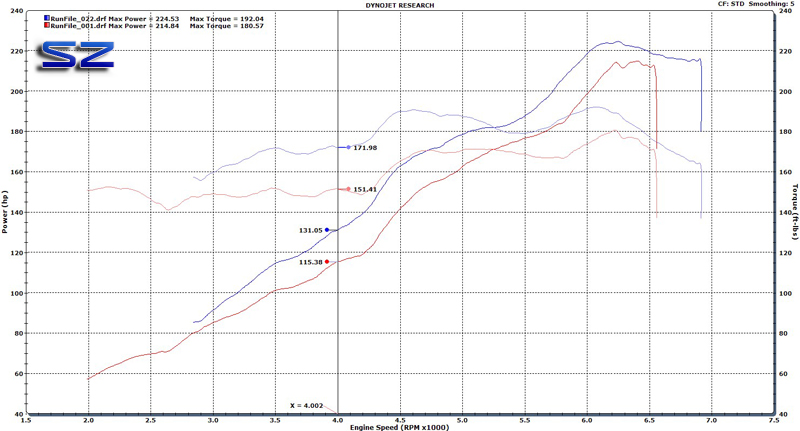 The red run was with a single POP filter untuned.  The blue run is with the Selin Kit, VTC fix, and tuning.  A peak gain of 10 whp & 12 torque.  The  most impressive gains to be found were at the mid-range (20 to 25 whp & torque).