Ed's been a good customer of ours for quite some time.  We've always come to know him as "Ed with the Front Mount".  Ed was sporting the Apollo FMIC kit which in our opinion sucks balls.  I'd like to add as I was reading on another forum that FMICs CAN work on a Z32 when designed properly.  The only one to our knowledge is the TDM FMIC Kit.  We run it on our blue drag Z32.  It has less bends and a very high quality core.  The (Apollo) kit increases piping length and also adds more bends.  This in turns adds to restrictions and loss of power, along with blocking airflow to the radiator.  Slowly Ed fixed maintenance issues and did small upgrades along the way.  Recently he finally decided to have us ditch his FMIC setup in favor of larger 2.5″ I\C Piping, Ash Massives, and Z1 T.B.s to round out the combo.
Ed's current mods:
Stock Turbos & Manifolds
Stock Engine
SZ 2.5″ Downpipes & Test Pipes
HKS Hyper Catback
RPS Twin Carbon Clutch
Selin Dual POP Kit
Nismo 740cc Injectors & 300Degree Rails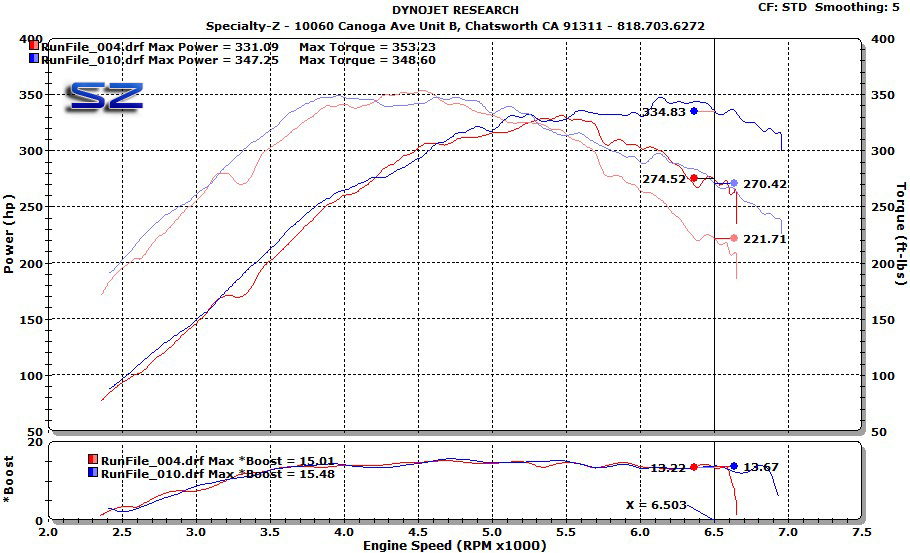 This is a before and after from just changing out to the old FMIC to the larger I\C piping, Massives, and T.B.s.  Red run was the old FMIC, Blue run the new setup.  Some gains down low and impressive gains up top.  Almost 50 ft\lbs and 60 whp gain at 6500 RPMs.  Efficiency is key, more power on same boost levels.