Mr. Rob from Virginia sent us his Z32 for some big turbo loving.  His Z came to us with stock turbos, stock injectors, stock engine, just about everything stock.  It was essentially a Stage 3 Z.  We performed a leak down and compression test on the stock long block to find it was in exceptional shape.  Rob didn't plan to run race fuel but wanted big power on regular pump fuel which is 93 octane in Virginia.  The stock long block was up to the task for this.  We installed the following parts:
SZ EXP-95 Turbo Kit
300Degree\SZ 850cc Fuel Injector Kit
MSP Manifolds
JWT 500 Cams, HD Valve Springs, & BDE Intake Cam Gears
SZ 3″ EXP Downpipes
SZ 3″ Test Pipes
SZ 3″ Single Oval Catback
ASH 2.5″ IC Piping
ASH Massive V3 Intercoolers
Z1 58mm Throttle Bodies
Brake Man Big Brake Kit
Motor ready to be dropped in.
Massive Intercoolers and Brake Man parts installed.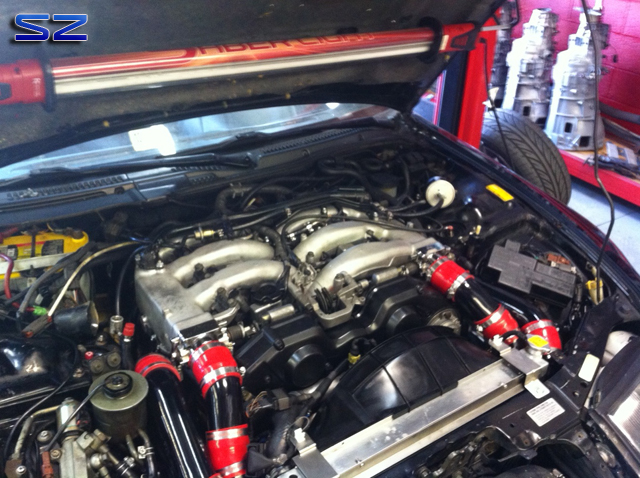 Finally after completing the mechanical work, it was time to tune and make boost!  These turbos are capable of easily making over 30+ psi on race fuel which can easily translate to 800+whp.  For Rob, it wasn't about the maximum output but ultimate power on ordinary pump fuel.
590+ whp on pump 93 octane fuel on 17-19 psi.  Not bad!  Rob's original TT fuel pump is struggling to keep up at this point.  With some cam tweaks we can raise the entire power-band and smooth out delivery.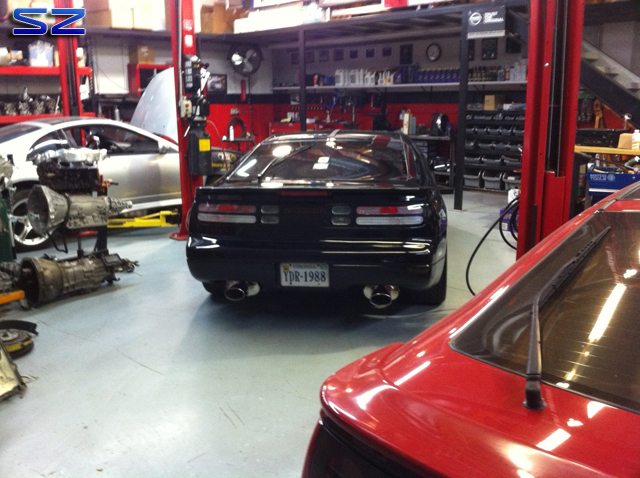 Enjoy the ride Rob!