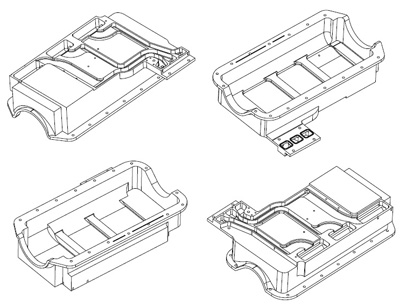 Over the last + year Bill Dailey has been working on a dry sump kit in conjunction with Mike from NZ and with some help from SZ.  For this we are proud to be distributors for this high quality, hold nothing back kit.  A must for serious racers that want to keep their engines alive in the rigors of racing.  Do yourself a favor and upgrade the heart of the oiling system!  The VG30DE(TT) suffers from poor oiling under stress due to engine design.  This stems from various things.  Poor oil capacity, hydraulic lifters, VTC system, the latter two suck up oil capacity like crazy and oil has a hard time draining back to the sump (pan).  This is why early on Nissan campaigned wet sump road race Z32s with drain back pumps on each side of the head.  A solid cam and lifter setup like the one JWT now offers is a good step in cutting down blood oil sucking parasites we know as the hydraulic lifters.
The dry sump kit includes the billet pan with integrated pump bracket, oil pump & spacer with optional oil & air separator, ATI damper and pump pulley tensioner assembly.  What's not included and will be up to the user\installer is the lines and oil tank.  This will depend greatly on the vehicle setup.  Pricing not set yet and look for it starting this week.  It will be available for order on our site.  Any questions on the system can be directed to SZ.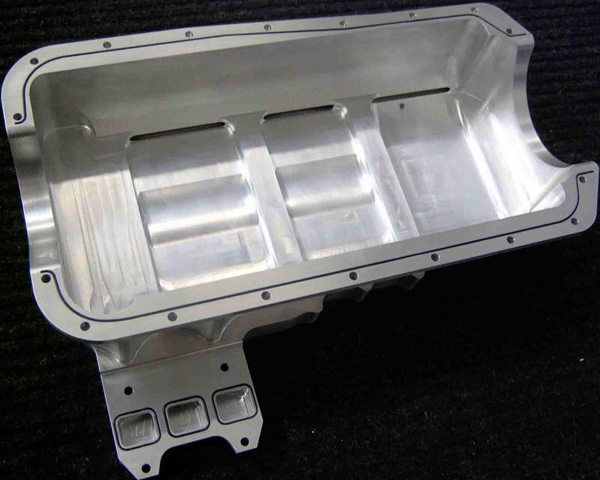 You can see the integrated pump bracket.  Note the groove on the flange for superior sealing to the block.  Reuses the factory front and rear oil pan seals and silicone.
Pump mounted.  The pump will sit in place of the existing factory A\C compressor.  So yes, you will have to delete your A\C to use this system.  The turbo drains have their own scavenging section directly on the pump.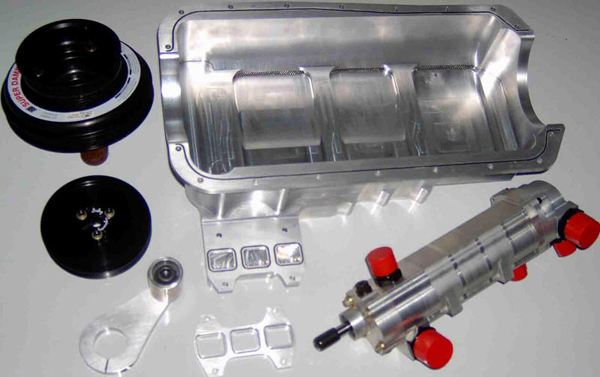 Complete kit shown.  Lines & Oil Tank not included.