Owning a 1996 300ZX means having to live with OBD-II.  Although OBD-II today is a great tuning tool for newer car models, the 96′ Z was left in the dust.  1996 was the first year OBD-II was implemented in North America and it was also the last year the 300ZX was produced in North America.  This left the 96 a red headed step-child when it came to easy breezy modifications like its younger kind.  The 1996 year had 20 less HP, less aggressive camshafts on both the intake and exhaust for both the MT and AT alike (totally different than any of the other years).  The 90-95 MT cam spec for duration is 248 on the intake and 248 on the exhaust.  The AT 90-95 has a 240 intake and 248 exhaust.  Drum roll for the 96…………  they use a 232 intake and 240 exhaust!  They also have less lift then the earlier Zs.  No VTC system (Nissan's Variable Cam Timing) also hurts power all around.  The 96s also use their own special OBD-II ECUs which are tougher to tune and throw codes for non emissions friendly mods.  So some have resorted to retro fit their 96s to 95 specs as far as the wiring, ECU, and cam setup goes.  This maybe an easy option for some but in states like California it's a tough option to go through with.  Talk about some bad odds.
Enter Alex.  He has a 96 Z32 TT and has the mod bug.  Alex has been our customer for almost 10 years now and he's slowly turned the wick up throughout the years.  This past December he wanted to "bump" it up some with the way of our 3″ 4-Bolt Downpipes (Stock Turbos), 3″to 2.5″ Test Pipes, Ash 2.5″ I\C Piping (w\ SZ Outlet Pipes) & Massives, Selin Dual POP, Nismo 740cc Injectors, Z1 Throttle Bodies, J-Spec Bumper, and some cooling mods for the track (auto-x & road course) duty.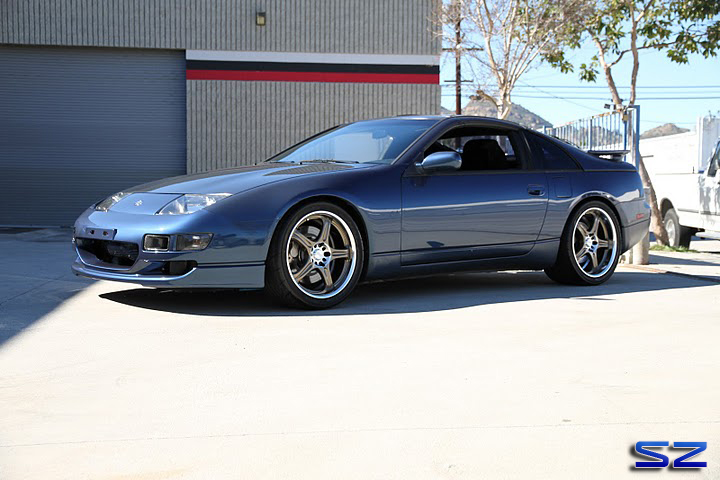 Freshly painted J-Spec & addition of Powertrix C.F. Ducts.
Ash product installed.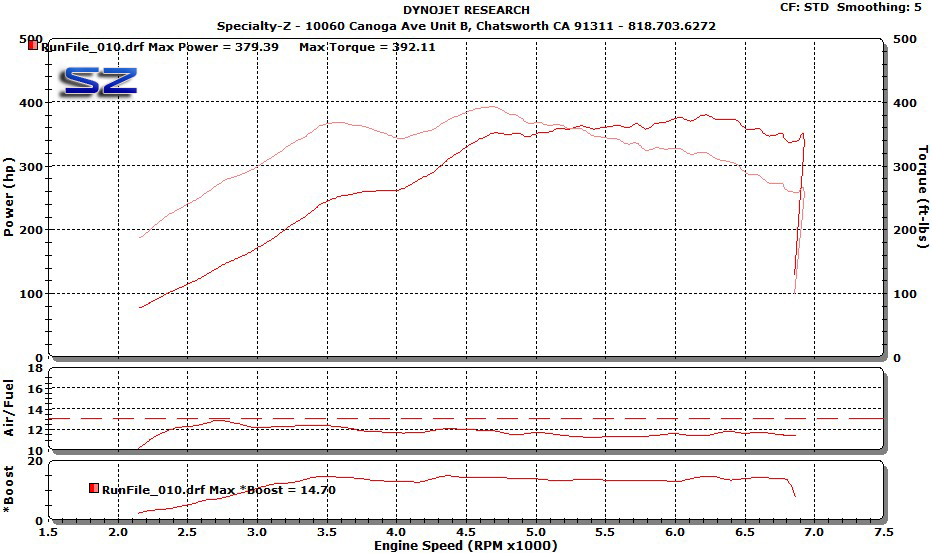 Here are his results on 91 octane.  We had to rely on an AFC for fuel tuning……because its a 96.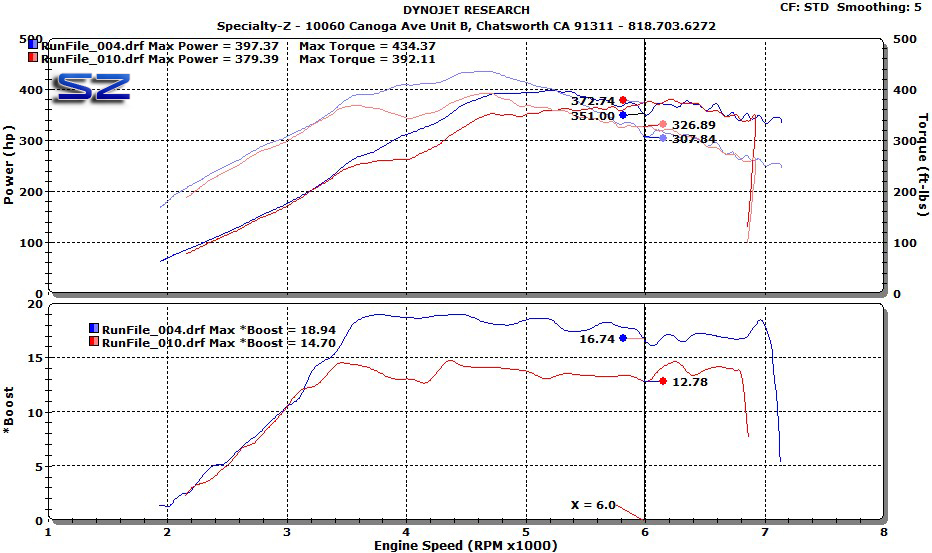 Here's where it gets interesting.  Exposing the shortcomings of modifying a 96 TT.  Increasing boost and fuel octane (100) did nothing for it.  Easily seen here are the boost differences between the 91 octane tune on 14.7 psi and 100 octane on almost 19 psi.  Gains are seen early on between the two only until about 5800 RPMs.  After 5800 RPMs the engine cannot efficiently make use of the added boost.  Running the engine at this level will only add stress to it.  The cursor on the graph shows the differences at 6000 RPMs.  Boost is 12.78 psi on 91 octane and 16.74 on 100 octane.  One would expect more power but that is not the case.  On 12 psi the engine is more efficient making power and torque.  It makes 20 more HP & torque on less boost (12 psi).  To make use of the quirky 96 and 100 octane would be to limit boost past 5800 RPMs.
Up next for this 96 will be the addition of pre-96 cams while adding Nissan's VTC system without modifying the ECU & Harness via SZ funky, fresh mods.  Keeping it California legal.