The last 6+ months have been hectic for me to say the least.  Health issues, work, and personal matters take priority when it comes to the Z.  My Z32 was down for over a year (Oct 08) and I was anxious to get it back on the road before my surgery.  I was worried that if I didn't get to it before then (Dec 09) I may never have a chance to work on it again if something happened in surgery.  I was told I could have been paralyzed and\or worse.   My current Z32 didn't and doesn't have anything wild as some may think.  I wanted something tame on the street but with enough gitty up and go to get the job done.  In a time and financial crunch I got it back together with the help of some friends and my fiancee.  Knowing it was running before I went in for surgery was a big load off my back.  I could peacefully rest knowing it was running and safe in my own garage at home.  This past weekend I did some data-logging for a prototype part and since it was strapped down decided to tune it for 91 octane.  This was also a good baseline for when I upgrade to larger intercoolers & piping.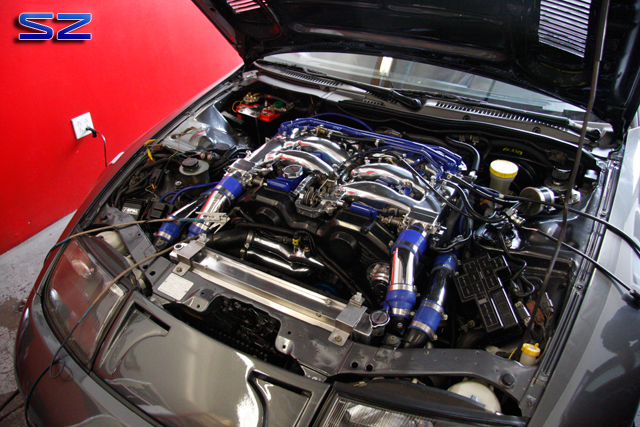 I didn't upgrade much this last time the VG30DETT was out, but just enough for some small power upgrades and great reliability.  It currently has:
Stock Block\Ported Heads
Custom regrind camshafts
JWT Sport 500s
MS Manifolds
SZ Turbo Inlet Piping (replaces accordion hose)
Old School Nismo 555cc Injectors
SZ Built Automagic Stage Race w\ triple plate converter & SZ Flex Plate (I like the auto)
BDE Engine Mounts (In case the bigger turbo bug gets me)
Full SZ 3″ SS Exhaust (Turbos-all the way back)
Z1 Larger TBs (For when the time came for larger piping & I\Cs)
Stock Stillen Intercoolers\ Stock Piping
Electric Fans
UD Pulley & HI OD Pulley
SZ Oil Pan
Pretty basic nothing crazy.  I was curious to see how much power it would make with the auto since it robs a little more power especially when turning up the pump pressure.  This car, when it was first put together in 2002 with the same turbos made an impressive 487 whp on race fuel back then.  When I bought it from my customer a few years ago it was "well abused"  and worn.  I dynoed it when I bought it shortly thereafter with race fuel and it only made 430 whp.  I beat on it while road racing and that was the end of it temporarily (stock oiling system sucks).  Fast forward to today and we have a happier Z back on the road.  Road racing is designated to another vehicle in the fleet.  This baby will live its life as a weekend cruiser and occasional drag strip runner.  Hoping to beat my best 11.3 ET (done on lower power) now with funky fresh powerful mods.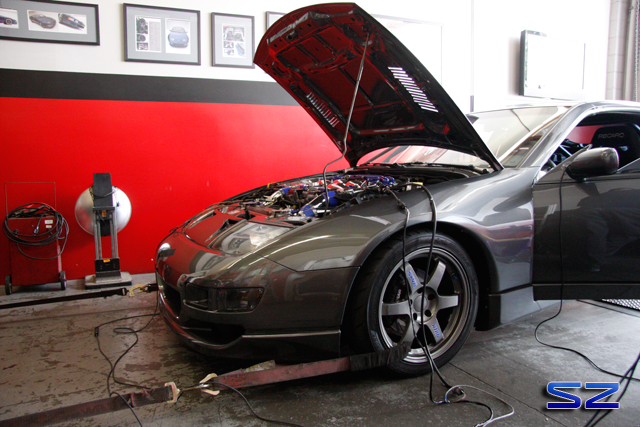 and the results were…………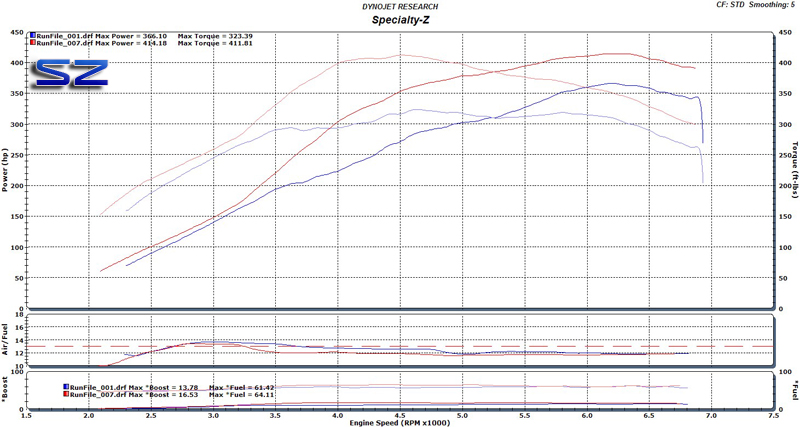 414 whp and 411 torque.  I was certainly happy with the results having only run it on 91 octane.  The first run was before and the last run 7 was its final tune.  This will give me\us good info when only adding larger I\C piping and intercoolers.  Stay tuned for more on my project Z32.